Driving in Saint Lucia: A Guide to Safe and Efficient Motoring.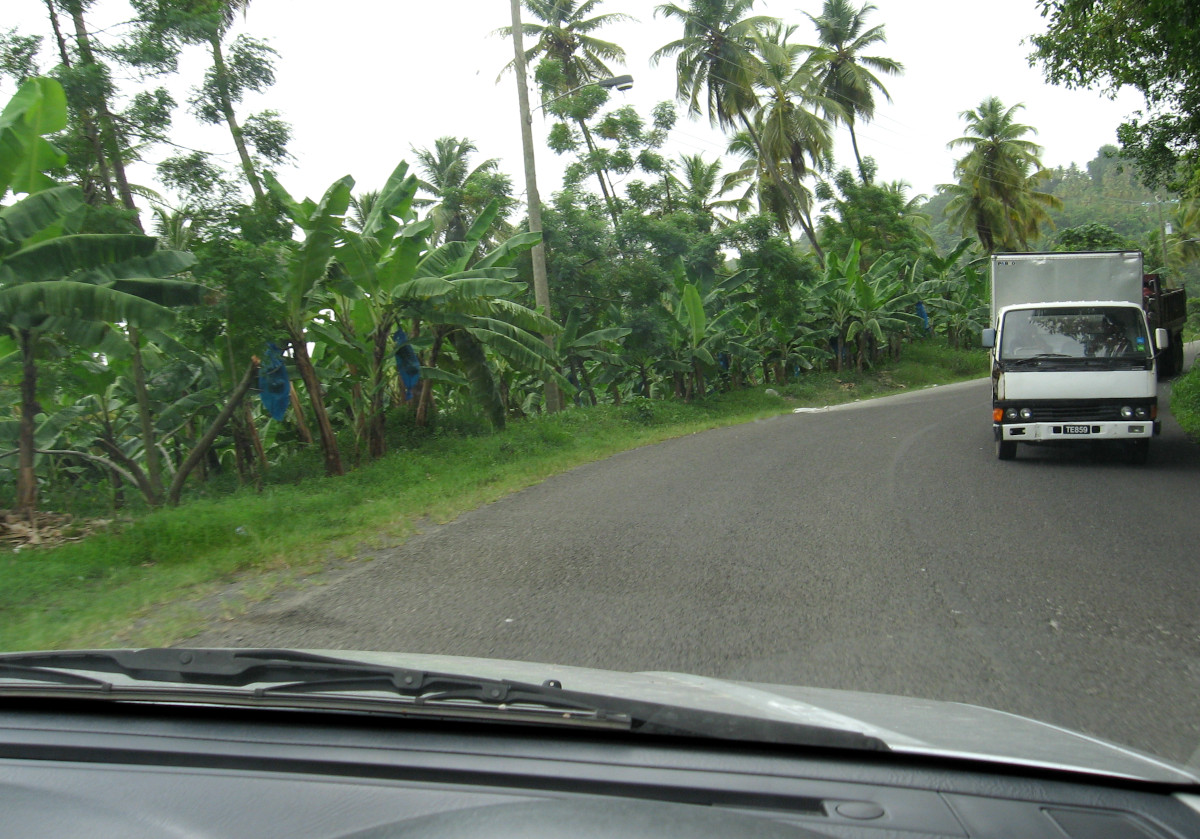 Saint Lucia is a beautiful Caribbean island that boasts stunning scenery and breathtaking natural beauty.
From its lush rain forests to its pristine beaches seeing certain parts on your own schedule will require a car.
Is driving in St. Lucia difficult?
Saint Lucia's roads follow the contours of the land and the mountainous terrain comes complete with steep climbs and descents, sharp bends that seem to go on forever and unpredictable weather. That said driving in Saint Lucia was no more difficult for me than navigating around the Lake District in the UK.
Below: There are plenty of tight bends on the island.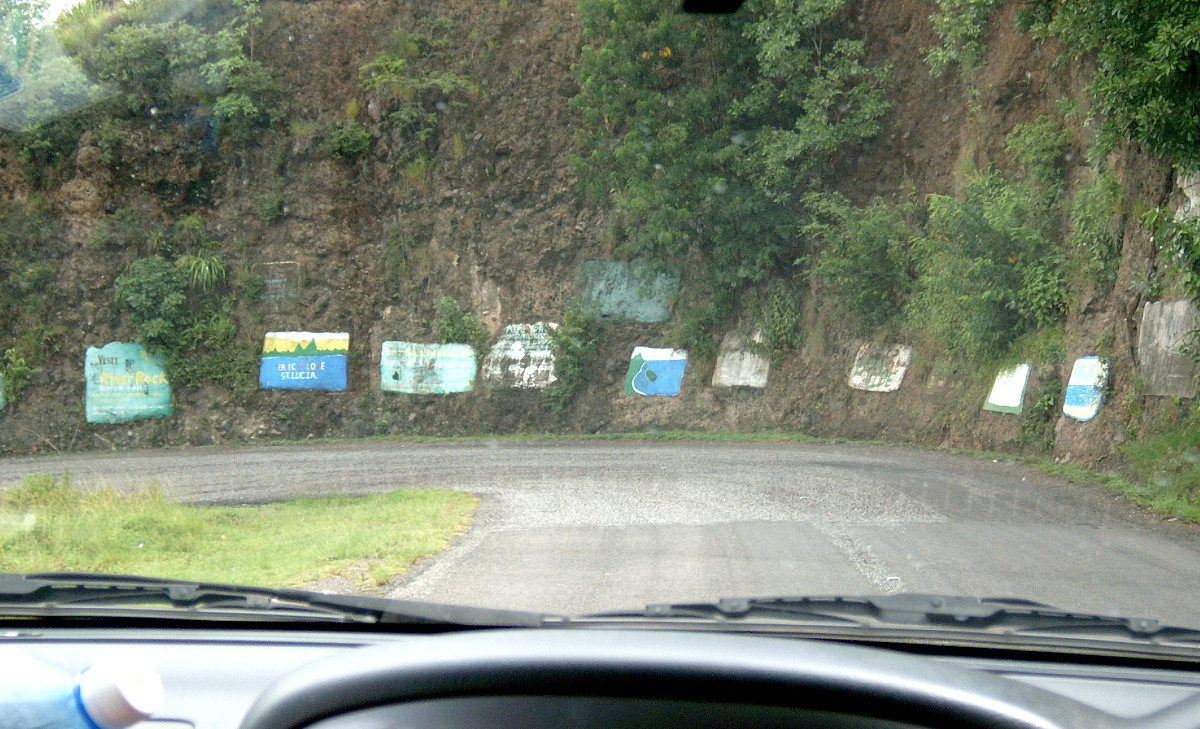 Saint Lucia has a ring road that follows the coast around the south but cuts across the centre of the island in the north. It takes between 75 and 90 minutes to drive from Vieux fort in the south to Castries and you can drive almost anywhere on the Island in two hours or less.

Saint Lucia has a number of roundabouts which drivers can find confusing if they are not familiar with how they work.

Parking is mostly free wherever you go in Saint Lucia.
Top tips for safe driving in Saint Lucia:
If you're planning to explore Saint Lucia by car, it's important to be familiar with the local driving laws and conditions:
Have your documents and digital copies to hand,
Hire a 4x4, it will make the driving experience much more pleasant,
Take extra care at night,
Use your horn on blind bends,
Use a reputable car hire agency as their is no national roadside assistance,
Never leave any valuables on display in your car,
Don't pick up hitchhikers,
Watch for pedestrians and local wildlife,
Familiarise yourself with local road signs and signals.
Speed limits are low, expect 10 or 15 mph in cities, 30 mph in residential areas and 40 mph on the highways.

The emergency services numbers are: Police 999, Ambulance 911, Fire 911.
What are the roads like in Saint Lucia?
Saint Lucia has a unique set of driving conditions that can be challenging for visitors who are used to driving in other parts of the world. For starters, the roads in Saint Lucia can be narrow and winding, with steep inclines and sharp turns. 
Below: Roads tend not to be marked with lines and paint outside of the towns and cities and there is little in the way of fences to stop animal and farm life getting onto the roads.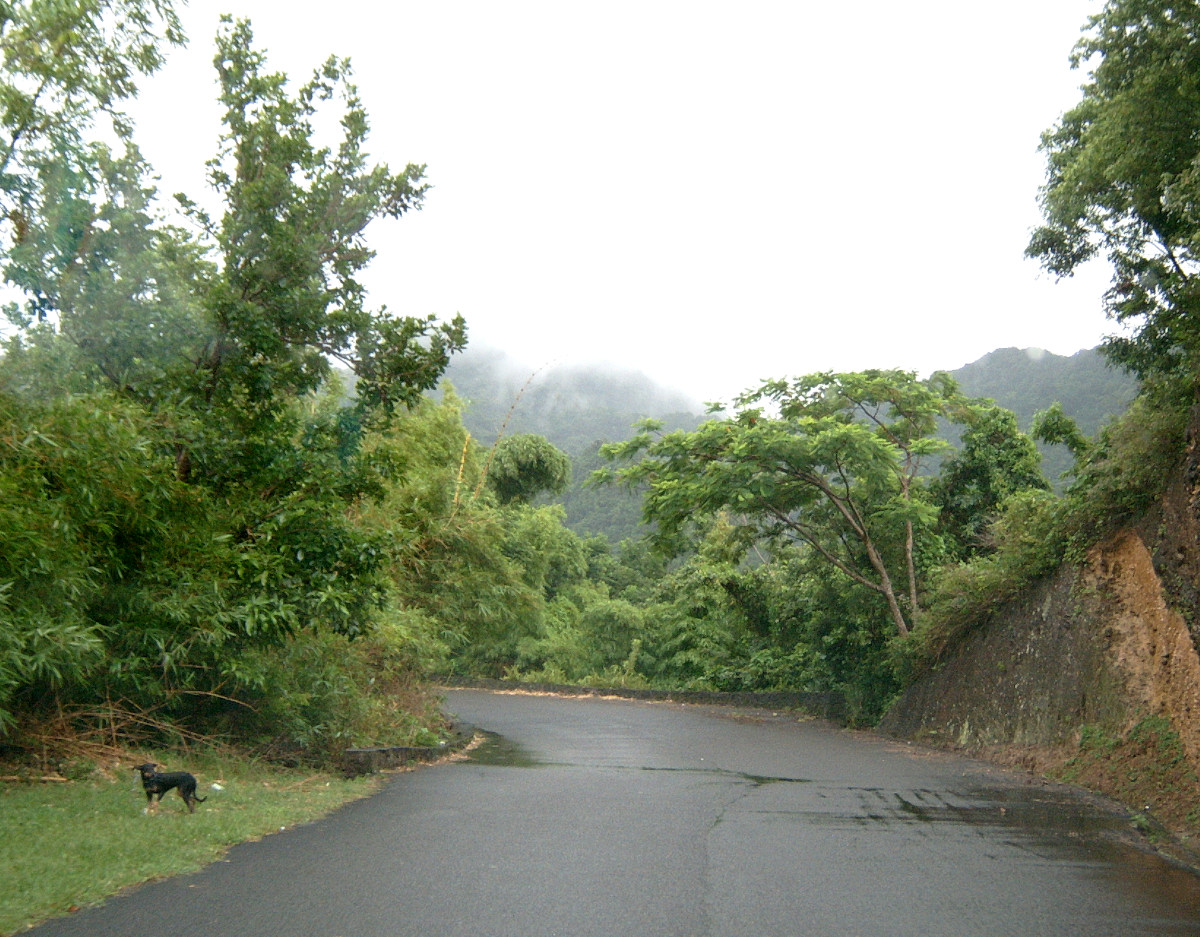 Additionally, the roads are often poorly lit and may not be well-maintained, making it important to drive with caution and be aware of your surroundings at all times. Be prepared for some potholes.
Below: Some roads are unpaved.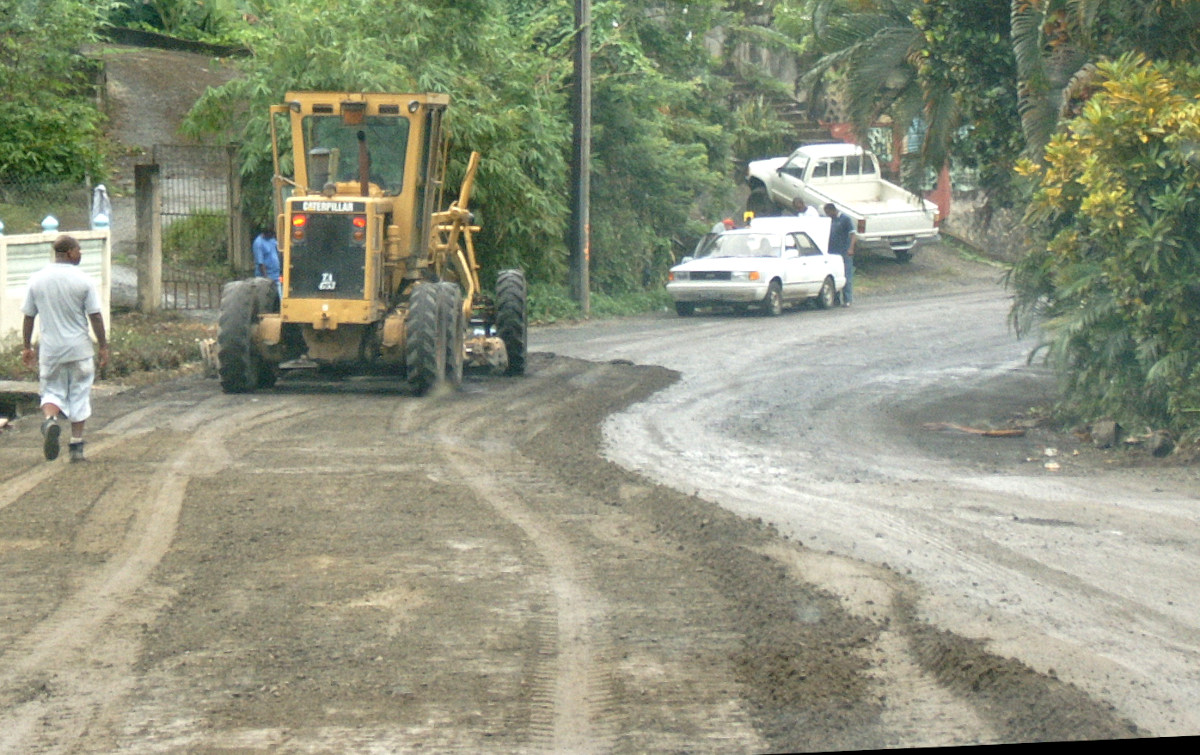 Another factor to keep in mind is the local weather conditions. Saint Lucia is located in the tropics, and as such, the island can experience heavy rainfall with little or no notice.
Below: A video of driving in the rain on Saint Lucia.
This can make driving conditions slippery and unpredictable, so it's important to be extra careful when driving in the rain.
Driver's licenses on Saint Lucia:
Most visitors are permitted to drive in Saint Lucia using their home country driver's license but local law enforcement may ask for proof of identity and an international driving permit, so it's best to carry both with you at all times.

If you're planning to rent a car and drive in Saint Lucia, it's important to have a valid driver's license from your home country.

If your driver's license is not in English, it's also a good idea to bring an international driving permit (IDP). An IDP is a recognised translation of your driver's license that can be used in over 140 countries around the world.
Rules of the Road in Saint Lucia:
In Saint Lucia, drivers are required to drive on the left-hand side of the road. This can take some getting used to, especially if you're used to driving on the right-hand side of the road. 
Below: Livestock, chickens and animals are commonly found in roads.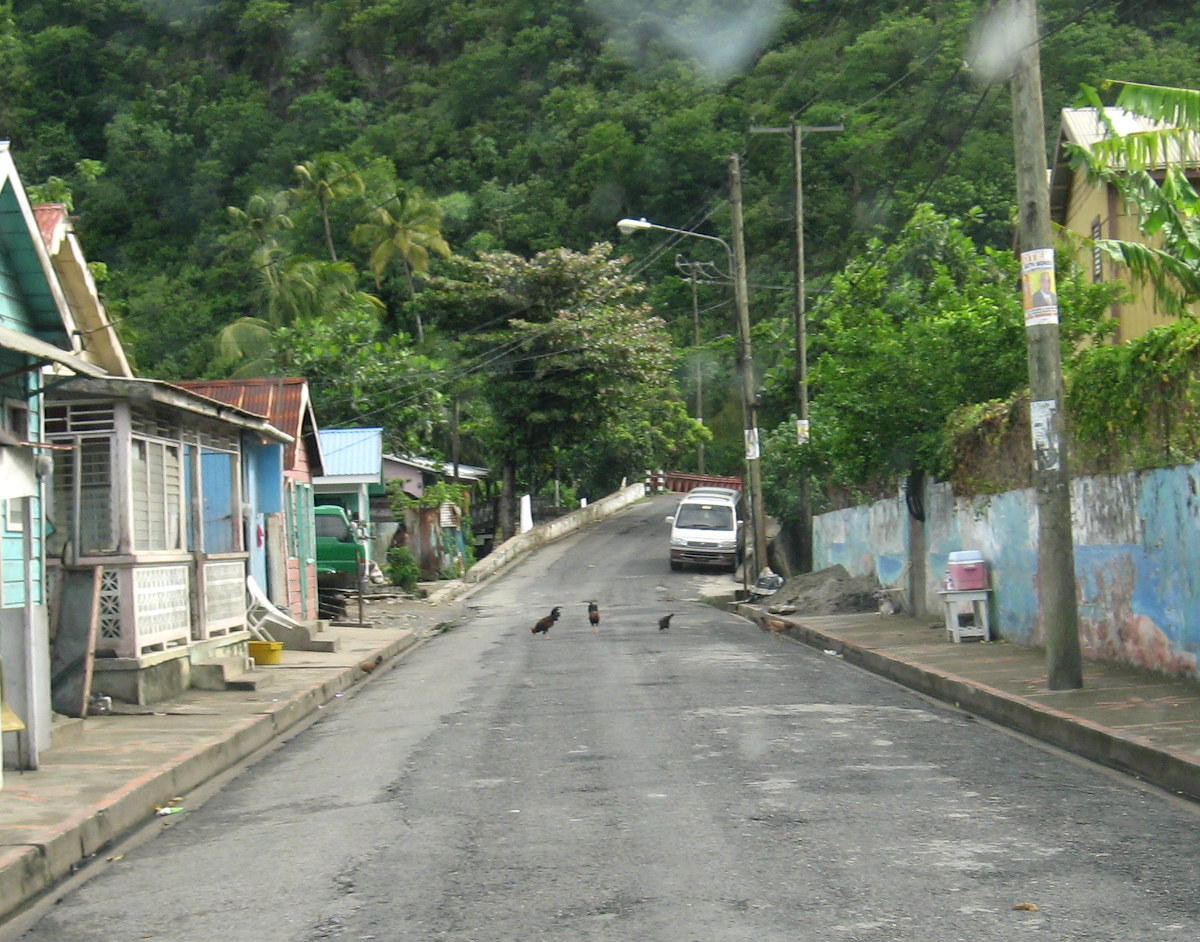 One of the things you will notice about driving on Saint Lucia is there is that the horn is an entire language and method of communication on its own. 

St. Lucian speed limits are: 
Cities 10 – 15 mph, 
Residential areas 30 mph, 
Highways 40 mph.
Speed limits in Saint Lucia are posted in miles per hour, so be sure to familiarise yourself with the local units of measurement before you hit the road.

The law requires all accidents to be reported within 24 hours. Do not admit any personal liability.

It's also worth noting that there are a number of other road rules that you need to be aware of when driving in Saint Lucia. For example, it's illegal to be intoxicated with drink or drugs and you may not use your cell phone while driving, and seat belts are required for all occupants of the vehicle. 
Renting a Car in Saint Lucia:
The minimum age for visitors renting a car in Saint Lucia is 25 years and you must have at least 5 years driving experience.

If you're looking to rent a car in Saint Lucia, there are a number of rental companies that offer a wide range of vehicles to choose from. Whether you're looking for a compact car, a spacious SUV, or a luxury vehicle, there is a rental car to suit your needs and budget.

When renting a car, it's important to take the time to carefully inspect the vehicle before you sign the rental agreement. 

Check the car for any visible damage, and make sure that the tires, brakes, and other essential components are in good working order. Take pictures of anything you think is suspect before you accept the vehicle.
It's also a good idea to ask the rental company about their policies for roadside assistance and insurance, just in case you need help while you're on the road.