Weddings in Saint Lucia. What is it like to get married in a tropical paradise?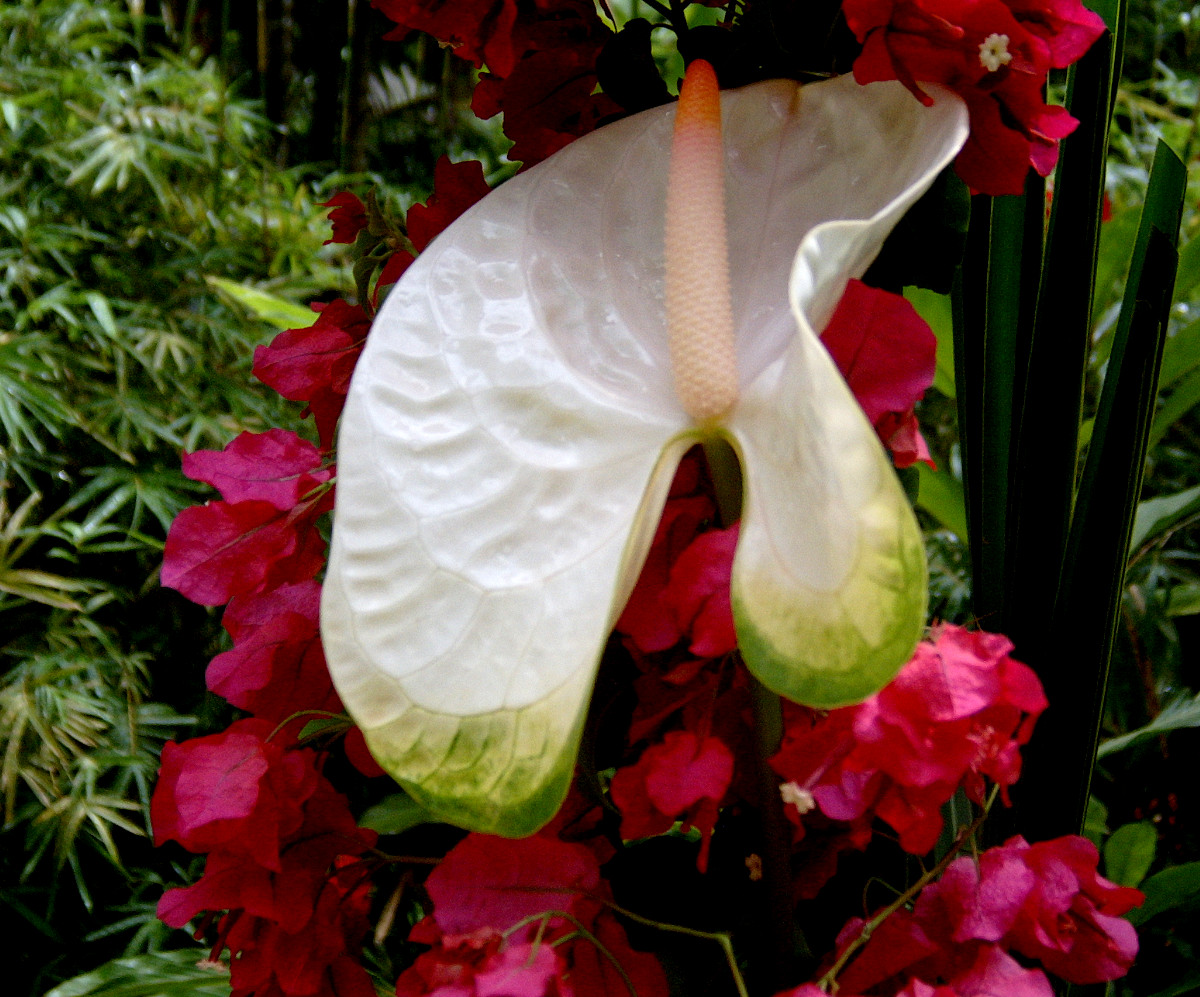 I got Married in Saint Lucia at the Stonefield Estate in 2006. We wanted a small, family oriented wedding with a personal feel and we saved money by combining the wedding with the honeymoon.
Getting married in the Caribbean is a dream come true for many couples. With its stunning beaches, crystal-clear waters, and lush tropical landscapes, Saint Lucia is the perfect destination for a romantic and memorable wedding and has been voted the world's leading honeymoon destination.
So what is it like to get married in a Caribbean paradise like Saint Lucia?
It is easy to get married in Saint Lucia, all of the resorts offer some sort of wedding package and the Island is well used to being a wedding destination. 
Below: Orchids in the bridal bouquet.

Some popular options include beachfront resorts, historic plantations, and secluded private islands. When choosing a venue, consider factors such as the size of your wedding party, your budget, and the type of atmosphere you want to create.
For me, getting married in the grounds of an old cocoa plantation seemed like the perfect place.
What does a Saint Lucia Marriage certificate look like?
There are two types, the hand written marriage certificate you get at the ceremony and the official printed copy you get from the registrar at a later date. 
Below: Here is my hand written Saint Lucia Marriage certificate from when I got married. I have removed the personal information from the middle.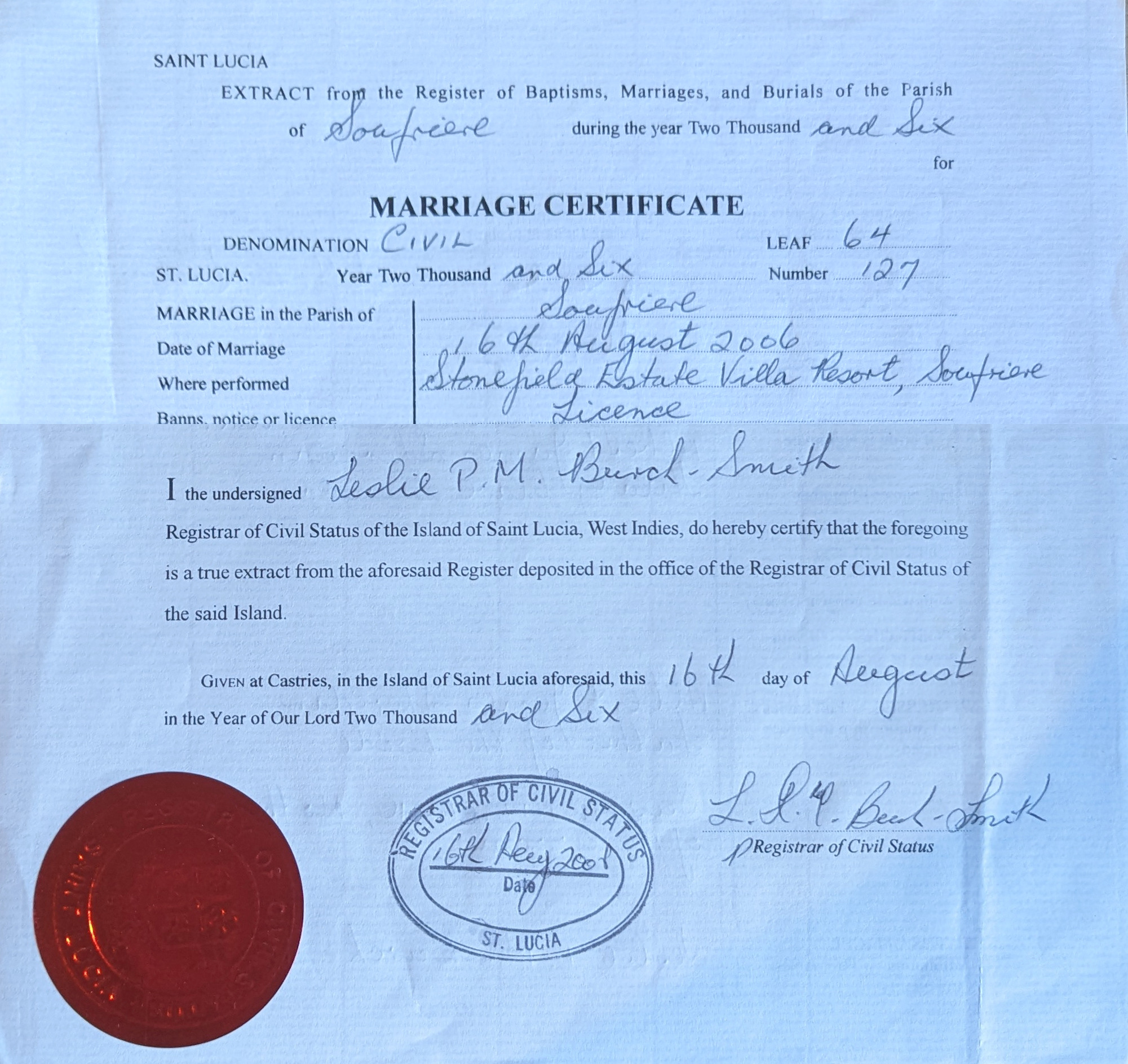 The certificate is quality heavyweight paper and is embossed. Make sure you take a hard back folder to keep it safe and stop it getting folded during travel.
What will A wedding in Saint Lucia cost?
Often people think that a wedding abroad will end up being more expensive. 
Wedding packages at the resorts or estates start from $840 US (£750) for the most basic ceremony which does not include the legal fees EC $335.
Wedding coordinators and any hair or beauty treatments will be extra but in my experience they are generally good value for money.
In my own case we got the flights, transfers, full board accommodation, the cost of the ceremony and legal fees, both our platinum wedding rings and the three week honeymoon after the ceremony for less than half the cost of a wedding here in the UK.
Below: Want to get married on  beach fringed with palm trees? That can be arranged.

The total cost for my wedding in Saint Lucia was just over £9000 ($10 K Approximately). That included everything, even the rings.
You can get cheaper deals if you travel and book accommodation in groups.
What are the advantages and disadvantages of a Wedding in Saint Lucia?
Wherever you choose for your nuptials is likely to have its good points and bad. Here is a list of the pros and cons of a Saint Lucia wedding:
Pros:
A choice of beautiful tropical locations for the wedding,
Relaxed atmosphere for the nuptials,
You don't have to travel for the honeymoon,
Getting married in the Caribbean is the opportunity to incorporate unique cultural traditions into your wedding day,
Potential for lower costs for the wedding,
Shorter waiting periods to get married,
Smaller, more personal ceremony.
Cons:
Logistics can be more difficult and expensive to coordinate,
Weather can be unpredictable and impact the wedding,
Legal requirements may be different from your home country and confusing,
Availability of desired vendors and resources may be limited,
Distance from friends and family can make it difficult for them to attend.
What are the requirements for a wedding in Saint Lucia?
Keep in mind that you'll need to obtain certain legal documents and follow specific requirements, so make sure you're fully informed before you start planning.
An application for a marriage license can be made immediately on arrival. There is no residency or waiting period. Our resort included a session with a local legal representative to make sure all the paperwork was in order.

Fees are determined according to the expedition at which you require the license.

Expedited or same day marriage license is USD $204 and a regular marriage license is USD $127.

Standard documentation required fro a Saint Lucia wedding:
Passport,
Birth Certificate,
Decree absolute (if one of the party is divorced),
A death certificate of first spouse (in the case of a widow/widower),
A deed poll (if a name has been changed),
A sworn affidavit of consent stamped by a notary public if one of the parties is under age 18,
An authenticated translation if required documents are not in English.
Many of the hotels in Saint Lucia have dedicated wedding coordinators who can assist you with planning your wedding. It is advisable that you contact your hotel in advance to make arrangements.
After the marriage ceremony you will receive a temporary handwritten marriage certificate which I prefer to the official one. You should apply for the official marriage certificate prior to departing Saint Lucia, especially if you need to register your marriage when you return to your home country.

The official marriage certificate is obtained from the Registry of Civil Status, located on Brazil Street in Castries. The cost is USD $5.00.  

For further guidance you can contact the Registry of Civil Status at telephone number 758 468 3195 or through e-mail at civilstatusregistry@gmail.com. Further copies are available by post any time after the wedding.